On May 3, 2014, Tim Misny joined forces with The Super Heroes to Kids in Ohio to play Lex Luthor, Superman's arch enemy, as part of an interactive superhero experience in Elyria, OH.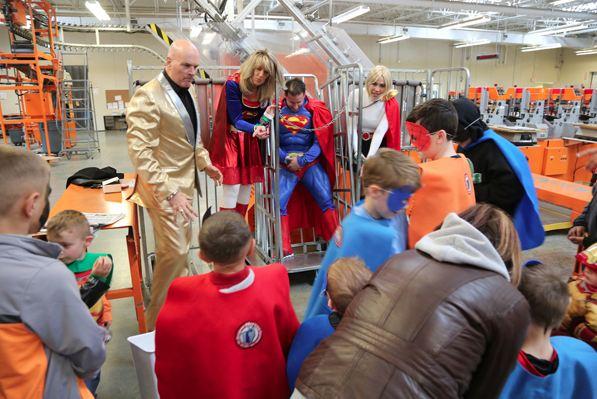 Months earlier, this entirely volunteer organization had a plan to make the comic book dreams of a few deserving kids a reality. With a lot of hard work by a lot of incredible people, their idea was realized when 11 super kids were asked to save Superman from Lex Luthor. These 11 kids became comic book superheroes for a day!
The Super Heroes to Kids in Ohio organization came together almost four years ago with one simple goal: to put smiles on kids' faces. They do so by making visits to children's hospitals, special needs centers, and various charitable events, surprising kids with real life visits from their favorite superheroes. As Brian Chulik, the co-founder of the organization says, "We just want all of the kids to have fun. They are the reason why we do this. They are the real heroes."
To learn more about the organization, you can visit their website here and make sure you check out this article by The Chronicle Telegram about the event.
Pictured above: Lex Luthor captures Superman, Supergirl, and Power Girl at the Elyria Chronicle, while his co-conspirators rob the bank in downtown Elyria. Moments after this photo was taken, the young superheroes saved the day by collecting the Kryptonite that lay at the feet of Superman. Superman was freed, and he quickly took Lex Luthor into custody.