By: Lisa Roberson
The wind swirled and dark clouds rolled in off Lake Erie, almost creating the perfect movie-like scene for a villain-filled escapade through downtown Elyria.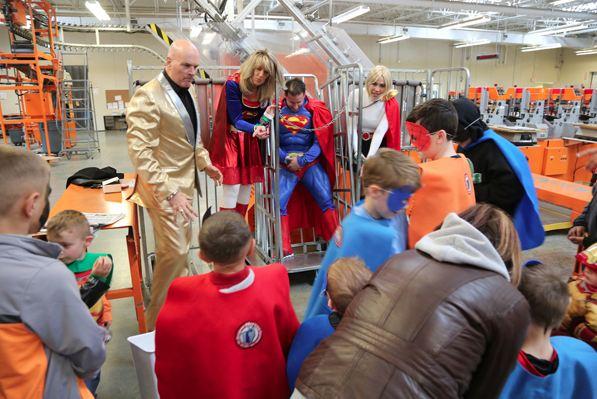 Lex Luthor, played to perfection by Tim Misny, held Superman, Supergirl and Power Girl hostage at the Elyria Planet, aka The Chronicle-Telegram, as Poison Ivy and the Scarecrow attempted to rob Fifth Third Bank. Everything was in alignment for nothing, but mischief.
However, there is a flaw in every good plan. And, on this particular day, there were 11 youngsters ready to step in and upset whatever diabolical plan had been hatched.
"Super kids, there has been a prison break and villains are roaming the city," said Debbie Bryant. "You got your capes. You got your masks. We are counting on you."
It's hard to imagine that a group of volunteers pulled off an event that brought smiles to so many faces. But Super Heroes to Kids in Ohio had a simple plan: Make the comic book dreams of a few deserving kids a reality. Months of preparation easily turned into hours of fun with Ely Square, The Chronicle-Telegram, Fifth Third Bank, Donna's Diner and the Lorain County Justice Center serving as backdrops.
"We just want all of the kids to have fun," said Brian Chulik, co-founder of the organization. "They are the reason why we do this. They are the real heroes."
Pictured above: Lex Luthor captures Superman, Supergirl, and Power Girl at the Elyria Chronicle, while his co-conspirators rob the bank in downtown Elyria. Moments after this photo was taken, the young superheroes saved the day by collecting the Kryptonite that lay at the feet of Superman. Superman was freed, and he quickly took Lex Luthor into custody.