When he's not fighting for his clients, Tim Misny steps in as CBS's legal expert for his show, "Getting Legal with Tim Misny," to provide his perspective as a personal injury lawyer in Cleveland, Ohio.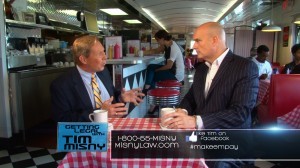 Do you have any questions about medical malpractice, statutes of limitations or simply whether you should trust your doctor? Tune in every Friday at 7:55 a.m. on CBS 19/43. Or, ask your questions on Tim's Facebook page to have them considered for a future "Getting Legal" segment.
Throughout the course of the 100+ episode show, Tim has covered topics ranging from "Who brings the case after a loved one has passed away?" and "What is the statute of limitations?" to "What should a client expect when they call Tim Misny?" 
Viewers tune in each week to get their "dose of legal reality" as host Jon Loufman asks Tim pertinent questions about medical malpractice, birth injury and catastrophic injury cases.
Summary
Event
​
Getting Legal with Tim Misny on CBS
Starting on