Today the 11th and final episode of my web reality series, "Misny Makes Them Pay" will be released.
The response to this project has been fantastic. We are approaching 200,000 views! But that is not how I determine the success of the show.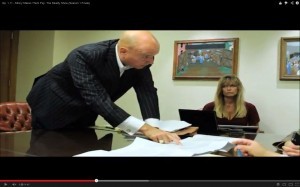 From the onset, my goal in producing "Misny Makes Them Pay: The Reality Show" was to inspire a whole new generation of advocates for the downtrodden and disadvantaged.
When I speak at law schools and universities and talk with law students and/or potential law students, I never encounter a student who is desirous of being a plaintiff personal injury lawyer. The typical response when I ask what is it you want to do with your law degree is "I want to be a corporate lawyer."
That is what has inspired me to do this show and offer four $2,500 scholarships. Like the show, I hope that the scholarships will encourage students to pursue a career in advocating for the injured victim.
If you know any high school, college, or law students please tell them about these scholarships. All they need to do is to simply watch the show and write me a letter as to why they think they would be an effective advocate for the injured victim. I will select the top four most compelling stories and award these grants. They may be applied to any high school, undergraduate, or law school curriculum of their choice.
Hopefully having watched the web series in its entirety, students will get a real insight into what it is I do. Simply stated, we portrayed real stories that showcased my clients' courage to fight for justice. I am happy and proud to say that these battles, more times than not, resulted in not only the client being compensated for their loss, but of equal import, we were able to change policy so that the tragedy that befell my client would never happen to anyone ever again.
Because of the number of viewers and their feedback, Executive Producer Eric Manes is eager to film a second season of "Misny Makes Them Pay: The Reality Show."
With twins on the way, I am struggling to find the time, as it is my intention to do so.